Select a topic >

RFID Wallets are look like regular wallets, however, they have one major difference that makes them a better choice - they contain RFID blocking material which every person needs to be aware of if the carry now, or ever intend to carry a credit card, identification card, passport, or passport card..
Newly issued credit cards and passports have RFID chips embedded within the cards. The chips are are designed to transmit an electronic signal allowing a nearby card reader to "read" the credit card or passports important information, without having to take the card out of the wallet or passport case.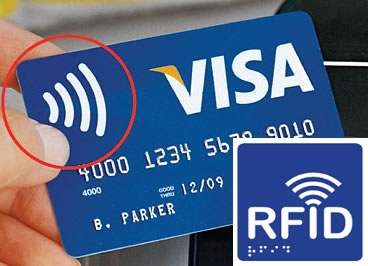 RFID chips are becoming a part of our lives. RFID stands for Radio Frequency Identification Devices and they are tiny, passive radio transmitters that are placed in products to prevent theft and now in identification cards and credit cards to speed up transactions.
These passive transmitters lie dormant until activated by a nearby RFID reader that sends a strong radio current that powers them on and makes them send out their signal.
The double bars that you walk through at the department store are RFID readers and they send out a strong signal that makes the chips "speak". About 100 million credit cards now have this contact less technology embedded into them.
However, over the next 2-3 years, it is expected that credit card issuers will replace every single magnetic stripe credit and debit card with a new contact less smart card.
Why should I be concerned about blocking RFID signals?
In the same way gas stations have installed lower powered versions on gas pumps to read quick pay gas cards. Newly issued credit cards, passports and other Ids have embedded RFID chips. Identity theft via RFID readers is prevalent and growing. Some readers can read your personal information up to 10 feet away. You can protect your personal data with the use of RFID blocking wallets and RFID blocking passport covers. These items contain a metal fiber mesh that makes a "cage" around the chip that radio waves cannot penetrate.
With the advent of this new technology, a new version of wallet theft is facing travelers today. it is called RFID and Electronic Pickpocketing. Credit card companies are beginning to install RFID chips in new credit cards which emits your card's account number, expiration date and other information.
That's where electronic pickpocketing comes into play. In order to stop thieves from using a simple handheld device and passing it over your purse or wallet in your back pocket and capturing your credit card's information, new wallets and purses feature built-in RFID blocking technology which can stop this new form of ID theft from your wallet or purse. You can find several types of RFID blocking wallets.
Besides credit cards, RFID chips can be found in many drivers and identification cards, as well as all newly issued passports and passport cards.
For men, several styles of RFID wallets can be found such as the following.
Ogon RFID Blocking Aluminum Card Case
The Ogon RFID Card Wallet is designed for either men or women. It features a sleek modern design that is both compact and lightweight, and is capped off with a brushed anodized aluminum material giving it a modern techno look.
The aluminum casing protects your cards from being read by radio-frequency-identification (RFID) technology, a new technology made to speed up transactions, but can also allow potential thieves access to your information.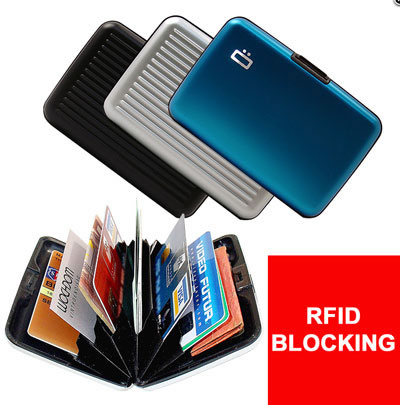 The new and revolutionary concept from Sweden that allows you to carry the essential in a pocket size: papers, credit cards, identity card, and cash (folded up). This wallet offers maximum protection in a compact aluminum shell that combines resistance and lightness.
The wallet more modern design provides the same RFID blocking function as other RFID blocking wallets, yet is easily slips into a man's or women's shirt/pants pocket, or is easily found in a purse (thanks to its flashy colors).
If you're looking for something durable, simple, eye-catching, and safe, the OGON RFID Blocking Aluminum Wallet may be the one for you - especially if you're into a modern looking wallet which also features eye-popping colors.
The Ogon RFID Blocking Wallet's provides maximum protection in a sleek and light, yet compact and strong aluminum shell. The outside shell is made from a brushed anodized aluminum material which is long wearing. This aluminum shell provides the RFID protection, as well as great security for your cards from slipping out of the case. Under the aluminum shell is a rigid ABS plastic interior liner.
Their are a variety of RFID blocking wallets on the market today in a variety of materials. You can buy RFID leather wallets in bi-fold and tri-fold designs.
The Leather RFID Bi-Fold Wallet contains the same RFID blocking features as a regular RFID wallet.
However, these RFID wallets are made of a soft leather and is perfect for anyone who wants additional security for their new electronic chipped credit cards, driver's license and/or RFID Passport ID Card that fit in your wallet.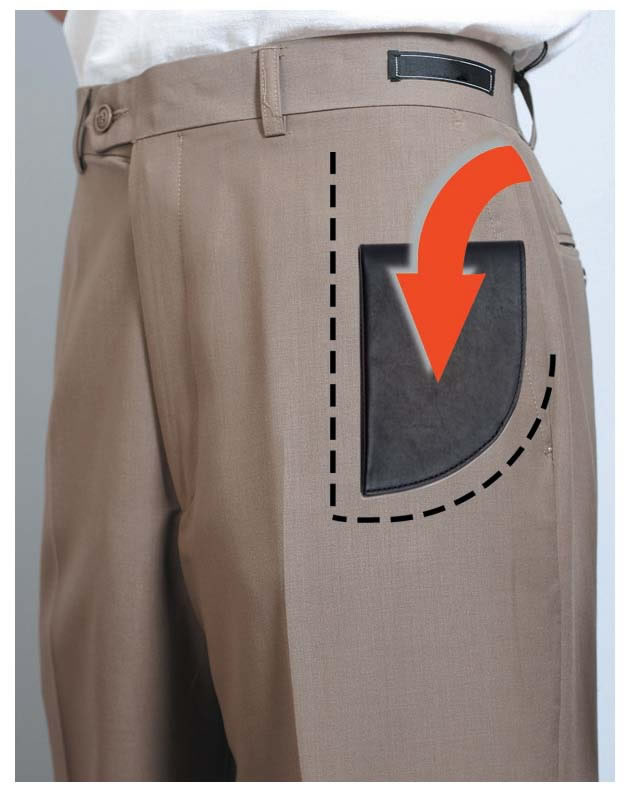 Another unique RFID blocking design is one that was designed to provide an extra layer of protection against pickpockets.
The RFID Front Pocket Wallet was designed specifically to fit perfectly into a front pants pocket.
The RFID Front Pocket Wallet's curved design causes it naturally fall to the lowest portion of the pocket, it is almost impossible to be removed by a pickpocket without ones knowledge – it just sits too deep to be accessible.
The Travelon RFID Cash and Card Sleeve is a unique RFID wallet that provides quick access to your credit cards and identification. The RFID Cash and Card Sleeve has a window on the outside of the wallet, in order to provide quick visual access to your drivers license or identification card.
It also provides storage for your RFID featured credit cards orPassport ID card with its three card slots, slip pocket, ID window, as well as an an internal pocket for bills and receipts.
Several versions of RFID passport wallets are also on the market. Again, they resemble regular passport cases and wallets, but they also include the extra RFID protection layer to your passports.
The RFID Passport Cases can be found in leather, ballistic nylon, or ripstop fabric, however it you intend to carry your passport in a damp or humid climate, you may want to consider buying a RFID Passport Case that is made from water resistant materials such as the PacSafe RFID Safe located here.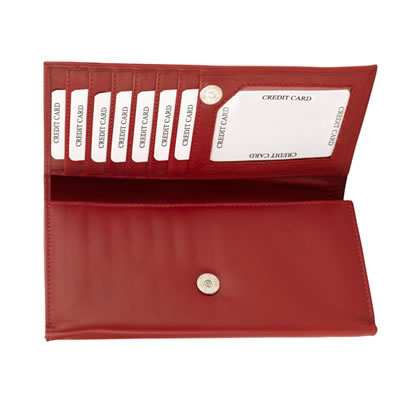 RFID Ladies Wallet

Finding a fashionable women's RFID ladies wallet has been difficult to do – until now. Now women can have the same protection for their credit cards, passports, and identity as well. RFID womens wallets have the same features that are found on regular womens wallets, including checkbook covers.
Several other versions of Ladies RFID Wallets can be found, including a unique product thal allows you to place an RFID insert into your existing purse or handbag that does not have RFID blocking material embedded in the material.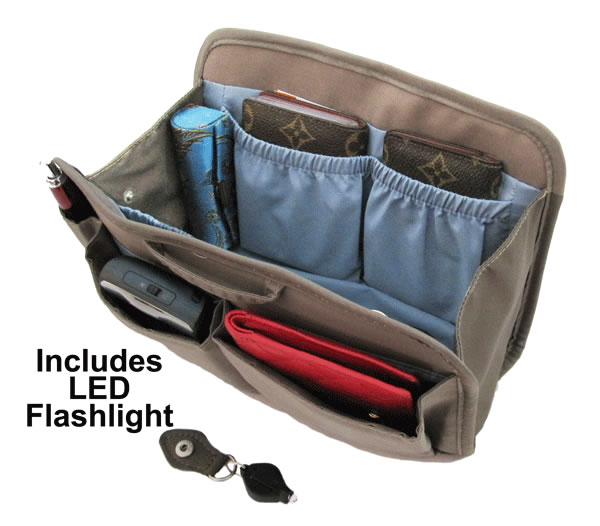 The product iscalled an RFID Blocking Purse Organizer and is available in two different sizes and colors.
This product can be located here.
RFID Travel Bag RFID Handbag RFID Tour Bag
The Travelon'sAnti-Theft Tour Bag with RFID Protection is a great top-loading travel bag with a front flap. Its main locking compartment holds and protects your valuables when out for the day, the padded main compartment also holds and secures an iPad, Xoom, Play Book, Galaxy Tab, as well as other similar sized tablets.
What makes this travel security tour bag different from other security travel bags is that is also includes RFID shielding in the bag's organizer pocket, so that your electronic enabled credit cards and passport information is safe from not just slick fingered pickpockets, but electronic pickpockets as well.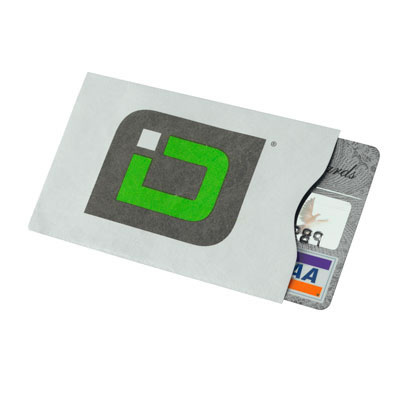 RFID Credit Cards and Passport Sleeves
RFID Sleeves are designed to hold individual credit or ID cards. Simply place your credit card in the wafer thin RFID protection sleeve - which is slim enough that you can put your shielded card right back in your wallet where you normally keep it.
RFID Sleeves are made of a durable Tyvek fiberbond exterior combined with the patented RFID shielding alloy lined card sleeve technology that blocks radio waves and prevents scanners from reading the chip inside your cards and passport.
That's why it's important to keep your cards and passport inside a shielded holder at all times, unless asked by the authority to remove it for inspection. These are the least expensive way to protect your RFID enabled credit cards and passport cards.
Several other RFID blocking products are available to those needing protection from electronic pickpocketing. here is a a link to several types of RFID blocking wallets, passport covers, and travel bags.